Overview
The Baker Society was created to recognize the foresight and generosity of alumni and friends who have named Rice University as a beneficiary of a will, revocable trust, retirement plan, life insurance policy, or life-income gift, such as a charitable gift annuity or charitable remainder trust.

Rice is committed to carrying out your charitable plans with the same careful attention that Captain Baker bestowed on the university during his lifetime. Captain Baker's law firm, which would become Baker Botts L.L.P., served as counsel to William Marsh Rice from about 1840 until Mr. Rice's death in 1900. Captain Baker was involved in drawing up the original charter for The Rice Institute and he was responsible for foiling the attempt to defraud Mr. Rice's original plans with a forged will. In addition, Captain Baker was one of the original six trustees of The Rice Institute and served in the capacity until 1941.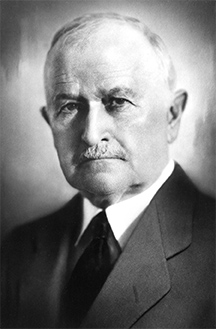 How to Join
The following types of commitments, qualify you for membership in the Baker Society:
If you have already included Rice University in a bequest or other planned gift, we hope you will let us know by contacting us, or please fill out the member profile form. Your willingness to be listed as a member of encourages others to follow your example. We acknowledge and respect those who wish to remain anonymous, but we urge you to let us know of your plans on a confidential basis in any case. It supports Rice University's planning for the future.

Of course, if you have not yet included Rice University in your plans and you would like to explore the best options for you and your family, do not hesitate to contact us as well. We would be glad to assist you on a confidential basis and without any obligation.
Benefits of Membership
In an effort to preserve your legacy for the purpose it is intended, we have chosen a few simple ways to recognize your commitment. Each new member will receive a letter of thanks, along with a handsome recognition gift that we hope you will treasure for years to come.

In addition to these small expressions of gratitude, we hope you will allow us to recognize you as a member in our donor honor roll. Your inclusion encourages others to join in this important effort. Lastly, as a member of the Baker Society, you will receive timely information, tips, and ongoing professional gift planning services from the Rice Office of Gift Planning.
Annual Baker Society Luncheon
The Baker Society is a special group of alumni and friends who have included Rice in their estate plans. Each year, we celebrate those who have joined the Baker Society at a special luncheon featuring notable Rice speakers and students.