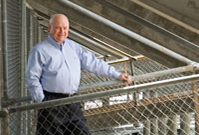 Homer Borgstedte '57 knows all about teamwork. The talented student-athlete — who ran the 100-yard dash in 9.7 seconds and played halfback on the football team — made friends during his undergraduate days whom he can still call on today.
Whether competing for the Owls on a football field or pitching in to raise more than $1 million for a golden anniversary athletic scholarship, Borgstedte and his classmates work as a cohesive unit. In fact, he credits his fellow alumni and his Rice degree with helping him get through a lot of life's big hurdles. To express his thanks and honor Rice, Borgstedte established a charitable gift annuity, which is a simple agreement between an individual and Rice in which Rice agrees to pay a fixed annual amount for life in exchange for a contribution.
"I treasure the fact that I am able to give to Rice," Homer said. "The university provided me with a terrific education, and I met a lot of great people there. A Rice degree and a Rice athletic scholarship is an ideal combination and gives you so many opportunities."