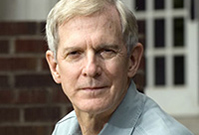 Dr. Clint Johnson '64 has been an economics professor at the University of Central Arkansas for more than 30 years, and he has no difficulty remembering the names of his sophomore-year professors at Rice.
"Every class that year was an unbelievable experience," Johnson said. "It was the best year of my life. It opened up possibilities that I had never considered before."
"I had Dr. Edward Norbeck for anthropology, Dr. Alan McKillop for English, Dr. John Auten for economics and Francis Loewenheim as a tutor in history. The lecturer for my history class was Dr. William H. Nelson. I can still remember how he would come into the lecture hall and take out several four-by-six cards. He would only look at them for about sixty seconds, but it always felt like an eternity. Then he would put them in his coat pocket and give this marvelous lecture."
In honor of the professors who shaped his own career as an educator, and in memory of his aunt Elizabeth Johnson Duncan, who made his graduate education possible, Johnson has created the Elizabeth Johnson Duncan Endowed Fund for Undergraduate Research through a charitable remainder unitrust.
"Rice is a leader in undergraduate research, and it has a commitment to the undergraduate experience," Johnson said. "I wanted to make a gift that would offer deserving undergraduates the opportunity to participate in directed research under Rice's outstanding faculty, such as I would have loved to have had under Dr. Norbeck. Dr. Norbeck was an inspiration to me then, and he still is. Professors like him are responsible for keeping Rice in the minds of alumni. Our great Rice experiences were burned into our memories, and I know the same kind of thing is going on now. That's what I want to help facilitate."