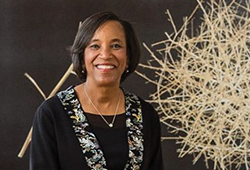 Students often choose Rice for its exceptional qualities: excellent research opportunities, access to faculty, residential college life and more. Yet for Teveia Barnes '75, her decision to attend came with a twist.
"Rice chose me," she says, recalling the moment she stepped foot on campus and the immediate sense of belonging that overwhelmed her.
That feeling has stayed with Teveia, and it continues to fuel a lifelong relationship with her alma mater. With a provision in her trust that will provide unrestricted support to the university, Teveia and her husband, Alan Sankin, are honoring the place that launched her future - one that includes a wildly successful 42- year career in law and finance, as well as decades of service to the university.
Teveia, a Rice trustee emerita and recently retired executive director of the California Infrastructure and Economic Development Bank, credits her success to the Rice faculty and staff who put students first and a residential college system that was receptive to her academic aspirations. One professor, for example, supported her in creating a new German studies major so she could blend German language courses with economics and political science. With a group of peers, she also successfully lobbied for Rice's first women's studies course.
"That was so Rice!" Teveia says. "I learned that if I needed something, Rice would make it happen."