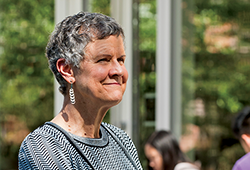 For Ann Hightower '80, Rice equals family. Here, she met her late husband, Professor Joe W. Hightower. Here, she influenced, befriended and supported extraordinary Rice students, hundreds of them. And here, by blending deferred gifts with current gifts that have immediate impact, Ann is putting her family values — generosity among them — into action.
After earning a bachelor's degree at Stanford and teaching English, Ann came to Rice at age 30 to pursue her heart's desire: a career in engineering. It was the kind of big challenge Rice encourages, and Ann rose to it - adding a Rice Master of Chemical Engineering degree before going to work for ExxonMobil. Along the way she met and married Joe, a professor of chemical and engineering and, with Joe's daughter Amy, formed a family.
For 30 years, the Hightowers served as faculty advisors at Baker College and supported Rice with a variety of gifts, all while adding countless students to their "family." When Joe became ill, the Hightowers turned their attention to the future. In 2014, to honor Joe's memory, Ann set up a bequest commitment in her estate plan to endow an assistant professorship, the Dr. Joe Hightower Fund for Faculty Excellence, in Rice's Department of Chemical and Biomolecular Engineering. She further created a "virtual" endowment - each year, funds are transferred directly from her IRA account to a gift fund that supports the department.