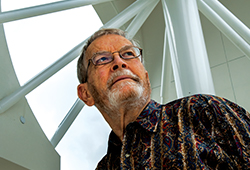 Texas native Russ Pitman '58 enjoys what one might call an "Owl's-eye view" of Rice University over the last half-century — a perspective that can only come from deep, personal experience. Indeed, as an alumnus, staff member and dedicated supporter, Russ knows Rice inside and out.
The man that many fondly refer to as "Mr. Rice" likes to take the long view of his support, using various gift planning tools to provide immediate and future funding for areas of the university about which he is passionate. He uses charitable gift annuities (CGAs) alongside outright giving, a charitable remainder trust and a bequest intention in his will to craft an inspiring model of philanthropy.
Architecture, music, art, art history, scholarships, research trips for students and intramural sports - these are just a handful of many Rice initiatives and capital projects Russ supports.
The Pitman Oculus, the large and distinctive structural element at the center of the new Moody Center for the Arts, is one landmark that bears his name and speaks to his passion.
Russ has made great use of the CGA, which pays him a guaranteed fixed income for life. He has established more than 50 so far. "I receive excellent payout rates from funds the university manages," Russ says, "and Rice has done a wonderful job."
Russ's philanthropy is just one example of the creativity and excellence that he prizes and cultivates at his beloved alma mater.