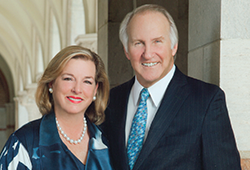 What advice would Jim Crownover '65 give a student accepted to Rice? "Bring your A-game," he says, because Rice will challenge you in the best way possible. In education and career alike, Rice inspired Jim to strive for higher purpose and impact. And that's the very spirit that drives Jim and his wife Molly in their philanthropy, which includes a bequest to Rice.
"The way I see it," Jim says, "you inherit this world, and you want to leave it a different, better place. If people and institutions help you fulfill your dream — and that was my experience at Rice - it's your higher purpose to return the favor."
In academics and as a golf athlete at Rice, Jim was supported by stellar faculty and staff members who became his friends. "At 19 years of age, I was spending time with leading thinkers who had done such amazing things," Jim says. "They taught me what it means to be a mentor."
After a 30-year career at McKinsey & Company and many years of corporate board and community service, Jim has returned the favor by serving in several volunteer roles at Rice, including as a trustee emeritus and as the former chairman of the Rice Board of Trustees (2005-2013). Jim's wife, Molly, also dedicates her time and expertise to Rice, serving as an advocate of The Shepherd School of Music and as president-elect of the Shepherd Society.
"Our own quality of life depends equally on helping others and on protecting great institutions like Rice," Jim explains. "Both bring purpose and satisfaction to our lives."
In 2013, acknowledging the Crownovers' contributions to Rice and to Houston, community leaders established the Crownover Scholars Program at the Jones School. The highly competitive program provides full tuition, a stipend and invaluable mentorship to two students per year.
True to Rice, Jim proudly mentors the program participants and his bequest will further strengthen his support of the program.
"We always expected to leave something in our wills to Rice as a legacy," Jim says. "A thank you to the giants on whose shoulders we have stood in our lifetimes."