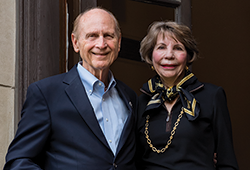 Mel Hildebrandt '55 and his wife Margaret came to Rice by different paths, but they are united in their motivation for supporting the university. Their common love for Rice inspired them to establish three charitable gift annuities, which enabled them to donate appreciated securities while earning an income tax deduction and fixed income for life.

"We wanted to boost our lifetime giving level but didn't feel our financial situation would allow us to do that without a return on those funds," says Mel, who insists "gift planning isn't just for billionaires. It's for people who want to support the university or a particular program but don't feel they can give a sizable sum right away."

"It feels good to know that the gift we planned six years ago will have a significant impact on everything that makes the Rice School of Architecture excellent."

Mel, who earned his B.A. and B.S. degrees in architecture and was a member of the Naval ROTC, credits Rice's free tuition for making his exceptional education possible. "Rice is an elite school that is not just for the elite," Mel says, "and that's a wonderful characteristic." As Mel launched a successful career in architecture and business, he felt called to give back to the university that gave him such an excellent foundation, while Margaret, an interior designer with a profound appreciation for beauty, was naturally drawn to Rice's campus and becoming part of the community.

Over the decades, Mel and Margaret have deepened their generosity as tireless ambassadors for Rice. Margaret currently serves on the Governing Council for Rice's prestigious Shepherd School of Music. Mel has served as a volunteer fundraiser for capital campaigns and class scholarship drives, as an advisory council member for computational engineering and architecture, and as a co-host, with Margaret, of Rice events. In 2006, Mel received Rice's Meritorious Service Award, honoring his loyalty and generosity.

In early 2017, the Hildebrandts extended their generosity even further when they terminated one of their three annuities early, converting it into a current-use gift to support initiatives in architecture. Through creative planning, they have translated the love they share to benefit Rice during and after their lifetimes.