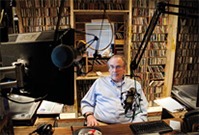 As an electrical engineering student, Gene Mutschler '69 helped build what would become Rice's first radio station. These days, Gene broadcasts his love for Rice by providing support for other enterprising young minds.
During a visit to the offices of KTRU Rice Radio, Gene Mutschler eased into the chair behind the soundboard, poised to pick up right where he left off nearly 50 years ago.
"You're listening to KTRU Rice Radio at 96.1," he says into the muted microphone, just for fun.
Gene's radio days began when he and his roommates first broadcast music across Hanszen College by tapping into the phone wires that ran from room to room. During his time at Rice, he saw the radio evolve into a campus-wide endeavor.
He also worked on the Rice Computer Project, programming and writing software for an early computer that took up a large portion of Abercrombie Labs. He built a sound mixing board and ran the light boards during theater productions and even hooked up the microphone that broadcast former President Lyndon B. Johnson's dedication of Sid Richardson College across campus. His greatest contribution, though, is his legacy of support for future generations.
"I had the great fortune of receiving a scholarship and a graduate student fellowship, so I didn't have to worry about mortgaging my future to borrow enough money for college," Gene says. "I would like to help students, because worrying about paying off loans distorts what you have to do in life."
The financial assistance Gene received has inspired him to give back to Rice in a number of ways. He has contributed to the Rice Annual Fund continuously for the past 35 years, and he has created a Charitable Remainder Trust to provide need-based scholarships for undergraduate students like Nick Merritt. He has also included Rice as a beneficiary of his retirement plan so that his generosity will continue to impact undergraduate education at Rice.
"I would not have been able to get a really good education without getting a scholarship to Rice," Gene says. "At the time, my scholarships were provided for by the endowment. Hopefully now, gifts that people give are going to carry that forward for the future."
Ready to make a difference like Gene? Contact our Office of Gift Planning at 713-348-4624 and turn your passion into a lasting legacy.