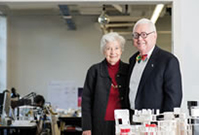 When it comes to their studies, Rice students are encouraged to choose their own paths, to take the combination of classes and extracurricular activities that will best serve their future plans. When it comes to giving back, Rice's approach is no different.
Frank Kelly '63 and his wife Lynda Harper Kelly '63 know firsthand that Rice is committed to helping both students and donors choose the path that's right for them. As an undergrad, Frank was initially interested in science or mathematics before he discovered that he could combine those subjects with an interest in drawing at the Rice School of Architecture. Lynda had been a Latin scholar in high school, and when she realized she was unfulfilled at the University of Texas, she left to study French at Rice.
The two met at a party at Rice while they were still in school, and since then they've nurtured their passion for architecture, French and one another through travel, teaching and giving back to the community. They have planned a gift to Rice through their estate to ensure that students will have the same chance to pursue their passions and that faculty will have the resources they need to inspire greatness for generations to come.
"We both had great experiences here," Frank says. "We don't have kids, so we wanted to leave our money some place where it would count. Leaving our money to Rice will make a difference."
To encompass their broad interests in French and architecture, the Kellys have made a deferred gift to benefit both programs through their estate plans. Their gift will be split between the Rice School of Architecture and the French program in the Department of Classical and European Studies and will provide support for faculty while encouraging study abroad opportunities for students through scholarship funding.
Scholarship support is a key component of the Initiative for Students, Rice's three-year effort to enhance the entire student experience and provide the resources students need to have an impact after Rice.
"I'm very grateful to Rice for giving me a free education," Lynda says. "I went all the way through to a Ph.D. without buying anything besides my textbooks, and Frank and I have made a gift toward the Initiative for Students as a way of paying Rice back. We know our support of Rice's academic programs will ensure students' access to the kind of studies that enhanced our lives."
Indeed, Frank and Lynda continue to see the benefits of a Rice education in their daily lives. Every year, the couple travels to France, and Frank is continually astounded by his wife's ability to answer obscure historical questions on tours.
"Thanks to Rice, I'm still studying!" Lynda says with a laugh.
"There's something that can be said for a school that can make learning engaging and fun," Frank says. "You get your grade, and that's kind of a milestone, but you keep on learning in a different way. Rice did that for both of us, and we want to help others do the same."
Ready to turn your passion into a legacy that will provide an education for future generations? Please call the Office of Gift Planning at 713-348-4624.