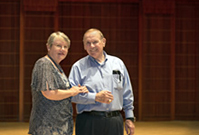 As avid members of The Rice Players, Rice's theater troupe, Mavis '66 and Gary '66 Anderson did whatever it took to set the stage for others to shine. They kept stage productions running smoothly, created imaginative costumes, scrambled to get props into place and recruited ushers.
"We didn't spend much time on stage," Mavis recalled, "but we had a great time anyway. Connecting with other students with similar interests was a high point for us."
Gary's and Mavis' love of performance inspired them to support emerging artists at Rice. Among their current gifts to the university is the Leo and Frances Atkinson Memorial Scholarship in Voice, which is named for Mavis' parents and which will be augmented with funds from a deferred charitable gift annuity and a charitable remainder trust. The scholarship supports Rice's most talented young singers, like Alexandra Smither '17, both on stage and in the classroom. Because the Andersons are also adding funds to their scholarship with deferred gifts, their generosity will impact even more students in the future.
"My mother was a trained amateur soprano," Mavis explained. "She wasn't well-to-do, but she gave some money to Rice, and I wanted to give something more in her name. Because she especially liked voice, Gary and I established our scholarship for that purpose."
"When I retired, I got a lump sum payment from my company," Gary added. "By giving to Rice [through a charitable remainder trust], we were able to avoid taxes and support a cause we believe in. This scholarship is our way of giving The Shepherd School of Music a standing ovation."
So, while the Andersons are no longer directing spotlights or opening curtains during performances, they are front-and-center in support of Rice's young performers.
Tell us what you care about at Rice, and our gift planning professionals will help you transform your passion into a lasting legacy at Rice. To get started, please call our Office of Gift Planning at 713-348-4624.