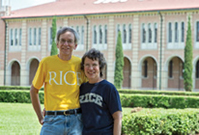 Ruth '72 and David Rusk are a playful pair whose eyes light up when they discuss topics like Disneyland, glow-in-the-dark t-shirts and, of course, Rice University.
When asked why he and Ruth decided to establish a scholarship at Rice, David, whose delivery is that of a seasoned wisecrack artist, quipped, "It was either that, or buy a memorial bench." When asked about the couple's favorite spot on campus, he immediately answered, "The servery."
As fun as the couple is, they are absolutely serious when it comes to their commitment to Rice and the legacy they will leave for students today and tomorrow.
Ruth attended Rice on a scholarship. After she graduated with a degree in math, she and David gave to the university to express their gratitude. In the early 1990s, they established the Ruth Duran Rusk and David Allen Rusk Endowed Scholarship to provide the same support for Rice students that Ruth enjoyed.
"Every time we interact with our [scholarship recipients], it confirms that we made a good decision in establishing a scholarship at Rice," David said. "Our students are outstanding and make us very proud. We know that, by investing in them, we're investing in the future."
Beyond their belief in supporting future generations, the Rusks have a more personal reason for making a gift to Rice: compassion for individuals battling disease. Ruth is currently fighting cancer for the second time. Around the time she received her second diagnosis, she and David updated their wills to increase their bequest to Rice. Specifically, their bequest will go toward the Rusk Scholarship, which is now earmarked for Rice students pursuing biomedical technology degrees and those planning to attend medical school.
"We want our gift to help students cure some awful diseases," said Ruth. "It's a good thing to leave behind."
If you, like the Rusks, are interested in investing in the future, please call our Gift Planning team at 713-348-4624.