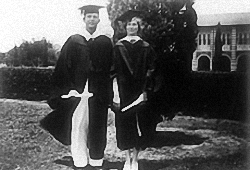 In 1926, two freshmen with modest backgrounds but powerful drives to excel entered the Rice Institute. One, Lillian Horlock '30 (later Lillian Illig), was determined to do whatever it took to get her degree, even if that meant taking the infamous Math 100 course and dissecting frogs. The other, Carl Illig '30, was fascinated by the great thinkers he first heard about at Rice and was eager to delve into their ideas. Both, convinced that getting a free education during the Great Depression would change their lives, felt an intense appreciation for Rice from the outset.
Decades later, their love of their alma mater was still as vibrant as ever. Carl, the associate general counsel for Humble Oil, a Trustee Emeritus and one of Rice's Gold Medal winners, along with Lillian, an expert gardener and published writer, repeatedly told their children how much their Rice educations had done for them and how important it was for the couple to give back to the place they loved so much.
"They felt humility and gratitude towards Rice for changing their lives," said daughters Elaine Davis '57 and Carol Lake. "Their education made all the difference to them."
"My parents were ordinary Rice graduates who used their education and did well," recalled their son Dale. "The university was such an important part of their lives that I often thought of Rice as one of my siblings."
The Illigs were so grateful to Rice that, when they wrote their wills, they divided their estate among their three children and Rice. One of their bequests, designated after Carl's passing, was the Carl and Lillian Illig Postdoctoral Fellowship in Nanotechnology. The fellowship, which was inspired in part by Lillian's meeting with Nobel Prize winner Richard Smalley, is dedicated to supporting some of the brightest scholars in the field, like Mustafa Yorulmaz (see below), whose research on gold nanoparticles may further the development of photonic and optoelectronic devices.
"My father would have been very pleased to have funded the fellowship," Dale said. "He often repeated a quotation he remembered from an Edgar Odell Lovett lecture: 'Rather, said Democritus, that I would discover the cause of one fact than be the King of the Persians.'"
The Office of Gift Planning is happy to help you craft your own personalized gift that will have a lasting impact at Rice. To learn more, please contact us at 713-348-4624 or giftplan@rice.edu.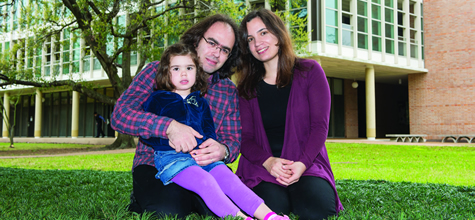 Fellowship Creates Golden Opportunities
When Mustafa Yorulmaz, the Carl and Lillian Illig Postdoctoral Fellow in Nanotechnology, examines gold nanoparticles — each of which is as unique as a snowflake — he's not just exploring new frontiers in basic science. He's also setting up golden opportunities for the future. He hopes his work will contribute to the further development of new imaging tools that will one day lead to advances in designing smaller, unique photonic and optoelectronic devices.
In the meantime, the young Turkish postdoc and his family are busy pursuing golden opportunities of their own. From taking part in Rice's dynamic multicultural environment and family-friendly activities to exploring its well-stocked library and engaging the cheeky squirrel population (an activity that Mustafa's daughter, Elif, particularly enjoys), the Yorulmaz family finds much to appreciate about the university. At the top of the list is Mustafa's Illig fellowship.
"The Illigs' help is very generous," said Mustafa, "and it gives me the opportunity to achieve my goals. Contributions like theirs are very important to scientific development."
Fellowships help attract top scholars to Rice. If you would like more information about this critical type of gift, please contact the Office of Gift Planning at 713-348-4624.