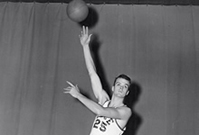 As a member of the Rice Athletic Hall of Fame, "Big Joe" Durrenberger '56 will forever be counted among the Owls' best of the best. In '52-'53, he set a Southwest Conference freshman scoring record of 22.1 points per game, and in 1955, the six-foot-seven-inch basketball captain scored 32 points and tallied 30 rebounds in a single game against Baylor.
Now, thanks to the Geri and Joe Durrenberger Scholarship that he and his wife, Geri, will fund with a charitable gift annuity, Joe has ensured that scholar-athletes associated with the Durrenberger name will earn accolades on the court and in the classroom for generations to come.
Although Joe had spent countless hours playing basketball using a hoop his mother, an all-state basketball player, had put up on a backyard tree, the star of the court had initially prioritized other sports. "Like every other red-blooded kid in Texas, I was always interested in playing football," he said. Joe's family, however, convinced the aspiring athlete to give basketball a shot. During his senior year at Houston's Reagan High, he was so successful that he made the All-City second team and caught Rice's attention.
"Rice and two other schools offered me a basketball scholarship," Joe recalled. "There was no question as to which I would accept. I was a bit apprehensive about Rice's academic reputation, but associating with such smart people was a good thing. I grew up in a hurry."
Joe is still an amazing athlete, having won more than 170 gold medals in Senior Olympics basketball, shot-put, volleyball and track. And he remains engaged with Rice.
"I'm glad that my scholarship will help recruit outstanding high school players to Rice and keep my name and efforts associated with the athletic department," Joe remarked. "Since the gift was funded with a charitable gift annuity, it also benefits my wife and me financially."