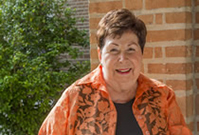 In September 1952, shortly after her husband, Harold "Bud" Rorschach, Jr., had finished graduate school at M.I.T. and accepted a faculty position in Rice's physics department, Ginny Rorschach found herself cruising toward campus in a black Dodge with no air conditioning. Bud had visited Houston before, but Ginny was unfamiliar with the city, and the sweltering heat came as a shock to the Tulsa native. "I thought Bud was bringing me to the end of the world!" she joked.
Fortunately, once Ginny reached Rice, she noticed a different kind of warmth. Before long, she was making lifelong friends within the Rice family, while Bud was swiftly gaining a reputation as a singularly dedicated professor. "Bud was devoted to his students, both as a physics professor and as a college associate," Ginny said. "His students still speak affectionately of him."
One such student is Leslie Williamson '72, who wrote to Ginny after Bud's death in 1993 to tell her of Bud's extraordinary efforts on her behalf. Needing to take both physics and chemistry, which were scheduled for the same hour, the aspiring medical student went to Bud, then the chair of the physics department, for help. "Bud told Leslie to sign up for chemistry," Ginny said, "and he taught her physics one-on-one. But he never mentioned this to me. To him, he was just doing his job."
What Bud considered "doing his job," many others classify as "changing lives." During his four decades at Rice, he won eight teaching awards, including the prestigious George R. Brown Award for Excellence in Teaching, which he won twice. Yet his impact extended well beyond his teaching. "He had a moral and intellectual presence that was unrivaled on campus," recalled his colleague, Stephen Baker. "When Bud spoke, people listened, but when people spoke, Bud listened. It was interesting that someone who commanded so much respect so completely lacked arrogance."
Bud exerted such a profound influence on campus that many in the Rice family, including Leslie and Stephen, were inspired to make substantial gifts to Rice to honor the beloved professor. And this year, Ginny added a new endowment - the Dr. Harold E. Rorschach, Jr. Endowed Undergraduate Research Award in Physics - to this effort. Funded with a qualified charitable distribution from her IRAs, Ginny's gift will perpetuate Bud's legacy of providing Rice students with the best possible education.
If you are interested in creating your own legacy at Rice, please call the Office of Gift Planning at 713-348-4624 to discuss immediate and deferred gift planning options.