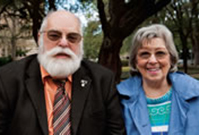 Bert '55 and Ann Bordovsky Link '56 remember vividly their days at the Rice Institute: knowing almost every student by name, attending ArchiArts and meeting each other for the first time in the library — or was it at the Rice-UT football game? They're still ironing out the details, they joke, but they remain serious about staying connected to Rice.
After graduating, the Links spent 11 of 22 Army years abroad in Korea, Vietnam and Germany. They returned to Houston for Bert's final assignment in the Army Corps of Engineers: to head Rice's Army ROTC. "We made a big circle," Ann said. "We just stopped in a few countries along the way." Back in Houston, Bert began a 22-year civil engineering career and was named Texas' Engineer of the Year, while Ann's efforts earned her the Volunteer of the Year award from the Institute of International Education.
Today, you'll find few Owls more enthusiastic about supporting Rice. In recent years, the Links have made qualified charitable IRA distributions to fund Rice Annual Fund scholarships. "Even when I was a young lieutenant without a lot of money, we would give Rice what we could," Bert said. "It's not an individual attitude, but a cultural attitude of giving for our generation."